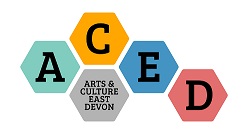 Arts and Culture East Devon (ACED) is a network connecting the artistic communities of East Devon and providing a central platform to engage, network, promote and talk about arts and culture across the region.
This public network is for East Devon arts and cultural organisations and individual creatives. 'Culture' is defined as all areas of activity associated with Arts Council England's art forms and organisations: collections, digital and combined arts, dance, libraries, literature, museums, music, theatre, and the visual arts.
The ACED network first met in July 2021, initially via online meetings, delivered by Thelma Hulbert Gallery (THG). THG identified a genuine need for a central hub to support East Devon creatives in order to encourage wider collaboration across East Devon's rich cultural scene.
The network was further strengthened in 2022 with a successful funding bid to the UK government through the Shared Prosperity Fund to commission a cultural strategy for East Devon District Council, working with local social, wellbeing, inclusion and economic development agendas. This led to the appointment of a Cultural Producer, Sarah Elghady, who is leading the ACED network.
Sign up to ACED Directory - membership is free to culture organisations, festivals, artists, creatives and performers across East Devon.


Sign up to ACED newsletter

 - news, networking events, training and grant opportunities for East Devon culture organisations and creatives